Russia is the largest country in the world, spanning nine time zones and comprising more than a ninth of the world's land mass. Much of Russia is comprised of vast stretches of plains, with heavily forested areas and tundra to the north, but Russia also has its share of arts and culture. Russia's theaters have produced some of the world's most talented ballet dancers, and world-renowned art museums and Russian architecture abound to the traveler's delight.

The center of Russia is located at 61.52 degrees North latitude and 105.32 degrees East longitude.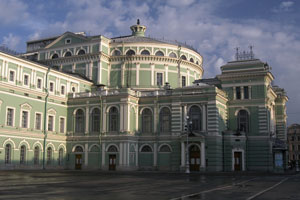 In St. Petersburg, be sure not to miss the White Nights Festival from May through July. Here you can experience concerts by the St. Petersburg Philharmonic, visiting world-class artists, and classical Russian ballets held in the opulent 19th century Mariinsky theater. Stay at St. Petersburg's oldest hotel, the five-star Grand Hotel Europe, and dine at the sophisticated Caviar Bar or Restaurant Europe. Mornings bring an elegant buffet breakfast, and a jazz brunch is available on Sundays. St. Petersburg is a 3.5 hour flight from Paris or London.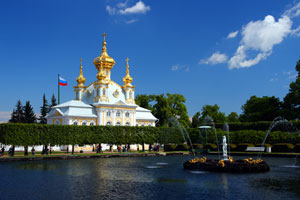 While in St. Petersburg, take a boat ride down the Neva River to the Gulf of Finland, where you will find Petrodvorets, Peter the Great's Grand Palace built in the early 1700s to rival Versailles. Petrodvorets was nearly destroyed during a German siege in World War II, but was painstakingly rebuilt to original specifications, including 300 acres of gardens, 66 fountains, and 12 miles of man-made canals. Petrodvorets is located 20 miles from St. Petersburg on the southern shore of the Gulf of Finland. Hydrofoil service departs regularly from the Winter Palace embankment in St. Petersburg from May through September.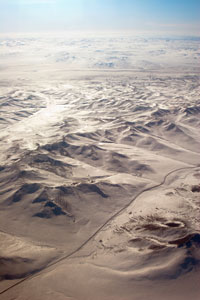 The world-famous Trans-Siberian Express crosses eight time zones between Moscow and Vladivostok. The two week rail journey crosses taiga, steppe, desert, and mountain with the company of expert guides, allowing for in-depth exploration of remote towns, villages, and regional capitals along the way. The Trans-Siberian Express takes three slightly different routes, between Moscow or St. Petersburg and the Far East. Travelers can opt to include Mongolia and end or begin their journey in Beijing. The Trans-Siberian Express can be boarded eastbound from Moscow and St. Petersburg, or westbound from Vladivostok, Beijing, or Ulaan Baatar in Mongolia. Limited departures run from late May through mid-September. MIR is a Seattle-based tour operator that focuses on Trans-Siberian Express journeys and Russian adventure travel arrangements.
To the visitor, Russia offers historic architecture, opulent palaces, Renaissance art, music, museums, and world-class ballets, making it a travel experience to remember!
---
Copyright © 2010-2023 Map-Of-Russia.org. All rights reserved.

Russia Address Locator Map